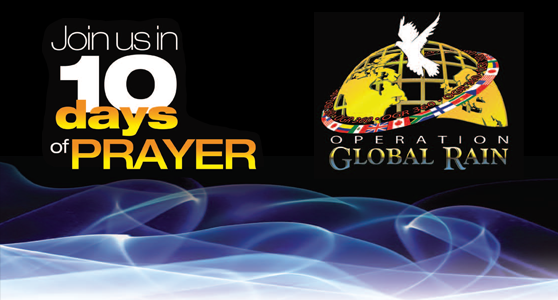 ANNOUNCING
OPERATION GLOBAL RAIN FOR GETTYSBURG
If video does not load please refresh your page.
Operation Global Rain
A grassroots prayer initiative sweeps the globe
T
he sermon title read: "Why We're Not Ready for Pentecost."
That will be the perfect rebuke for those church members who are spiritually lazy!
thought Atonte Myers, wife of church pastor Ivor Myers. Yet as she listened to the sermon, Atonte began to realize her own need of revival. She was convicted of her sinful condition, and together with many other church members that day, she stood up when her husband appealed to the congregation to commit to 10 consecutive days of praying for the outpouring of the Holy Spirit. This was not 10 days of preaching—but of praying and agonizing with God together for the blessing of His Spirit.
Each night up to 70 of the members of Myers' California church prayed through a specific topic such as true repentance, forgiveness, witnessing, and family issues.
"We prayed with short-sentence prayers instead of each person praying longer prayers," Atonte says. "It made the time pass quickly and kept everyone focused on praying."
The Communion service held on the final night led to reconciliations and "provided much-needed healing for our church," Atonte says. "People who had not spoken to each other for years were crying, hugging, and apologizing for their anger and bitterness.
"The following Sabbath church was packed!" she adds. "Some people just walked in off the street while others felt impressed to come back to church after many years! We rejoiced and knew God was answering our prayers."
This experience gave the Myerses an idea: What if other churches in the area joined them in 10 days of prayer? What if the whole conference prayed together? Or the whole world church? Pastor Myers quickly obtained the support of Jerry Page, who was president of the Central California Conference at the time, and the grassroots prayer movement known as Operation Global Rain (OGR) was born.
READ MORE AT ADVENTIST WORLD MAGAZINE
If you cannot make it to the church for the program but would like to participate where you are, please click the links below beginning January 4 through January 10th to watch the Mark Finley videos that correspond with each night's theme.
PRINTABLE STUDY GUIDE SHEETS FOR EACH NIGHT: